Simple, Powerful and Surprising
Customization
Design and personalize your content to create unique online courses
Custom sales page
Use an existing website to promote your own online academy, or create a new site optimized for sales with our simple Drag & Drop editor.
Choose your Domain
Start with our free domain (youracademy.nubily-educa.com) or with your own domain (youracademy.com) or subdomain (courses.youracademy.com).
Personal branding
Modify any aspect of your online academy. Use your own brand image by adding your logo, color palette, personalized images and much more.
Content manager
All the necessary tools to manage your online academy. You will be able to check in one spot all the statistics of your academy as enrollments and generated income.
Enrollment management
Manage your students effectively and stop wasting time by allowing your students to enroll automatically.
User traceability
Know and easily help your students with the profile system that registers their data, courses, access, groups, etc.
Learning tools
Improved learning experience to build a committed student community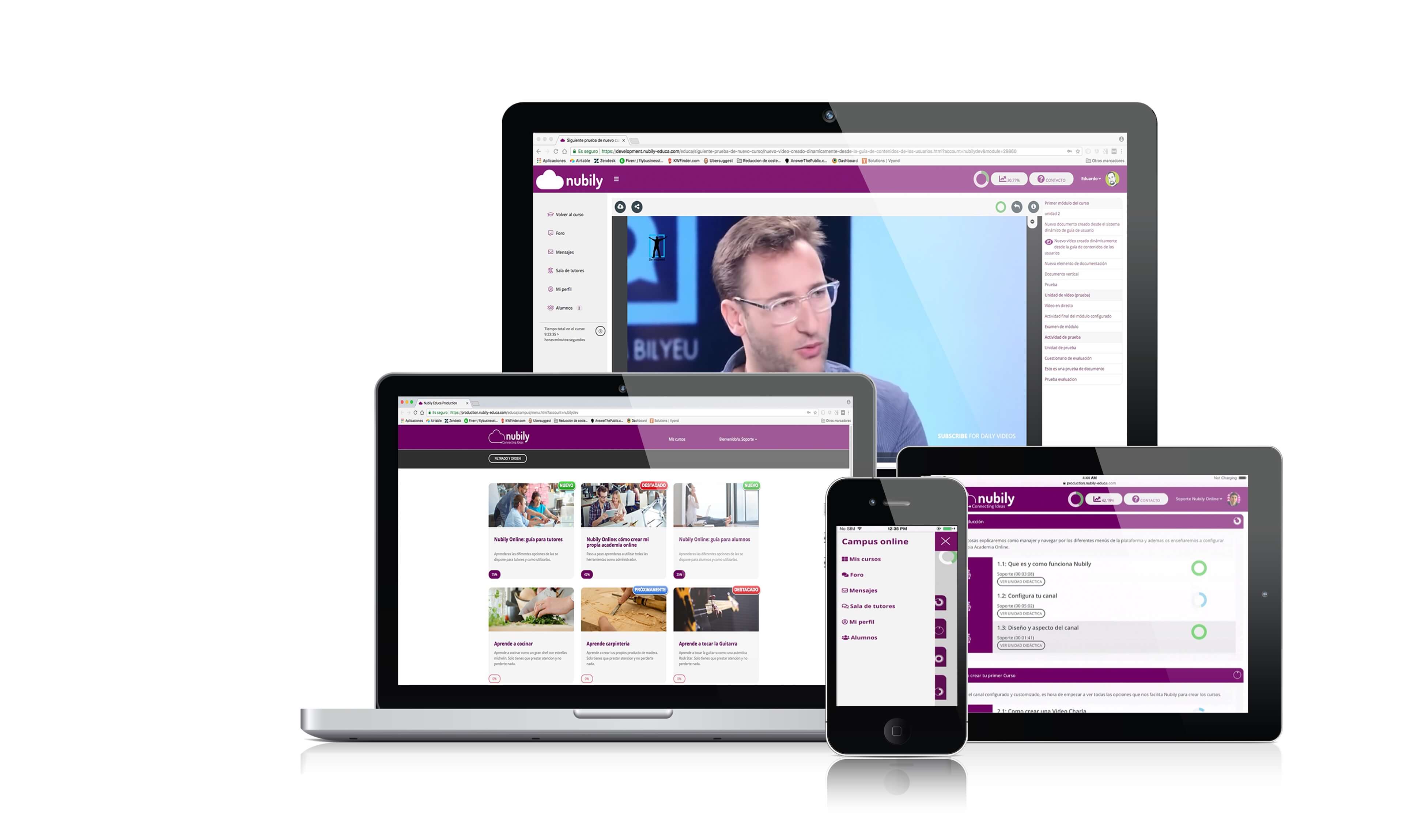 On any device
Your courses can be viewed on computers, tablets or smartphones, in a totally responsive and compatible with all browsers.
Versatile and creative
Create content units of all kinds: recorded or live videos, text, quiz, documents, evaluations, assessments and all tools you need to teach your students.
Easy and fast comunication
Communicate with your students through the Forum or with private messaging system. Add schedules, calendars and all you need to organize your academy.
Direct visualizations of PDF documents
Host and display your academic PDFs securely, directly on the virtual campus and without downloading.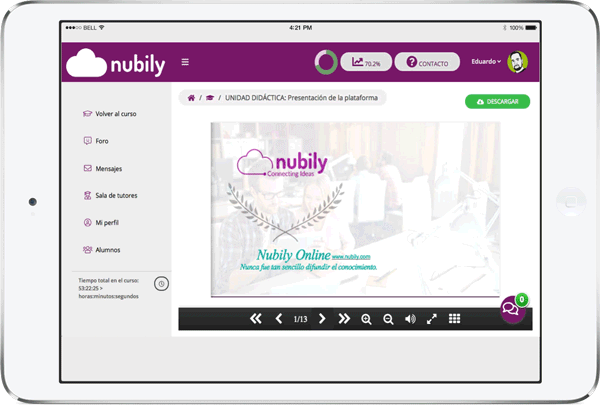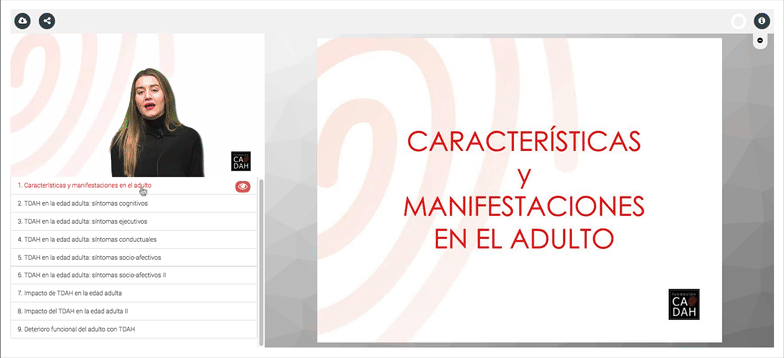 Nubily Interactive
Is our versatile and interactive media player for your video content, which will allow you to:
Synchronize videos with support presentations in real time.
Offer live or recorded content.
The platform takes care of complex parts (such as converting the video to the optimal format for the Web).
Marketing and Sales
Effectively Market and sell your courses using the best tools
Without Borders
Expand your online academy, accept payments in any currency you can imagine. You choose how you want to charge your students: Stripe, PayPal and even wire transfer.
Promotional codes
Encourage conversion of your audience with exclusive, fixed or percentage discounts through promotional codes.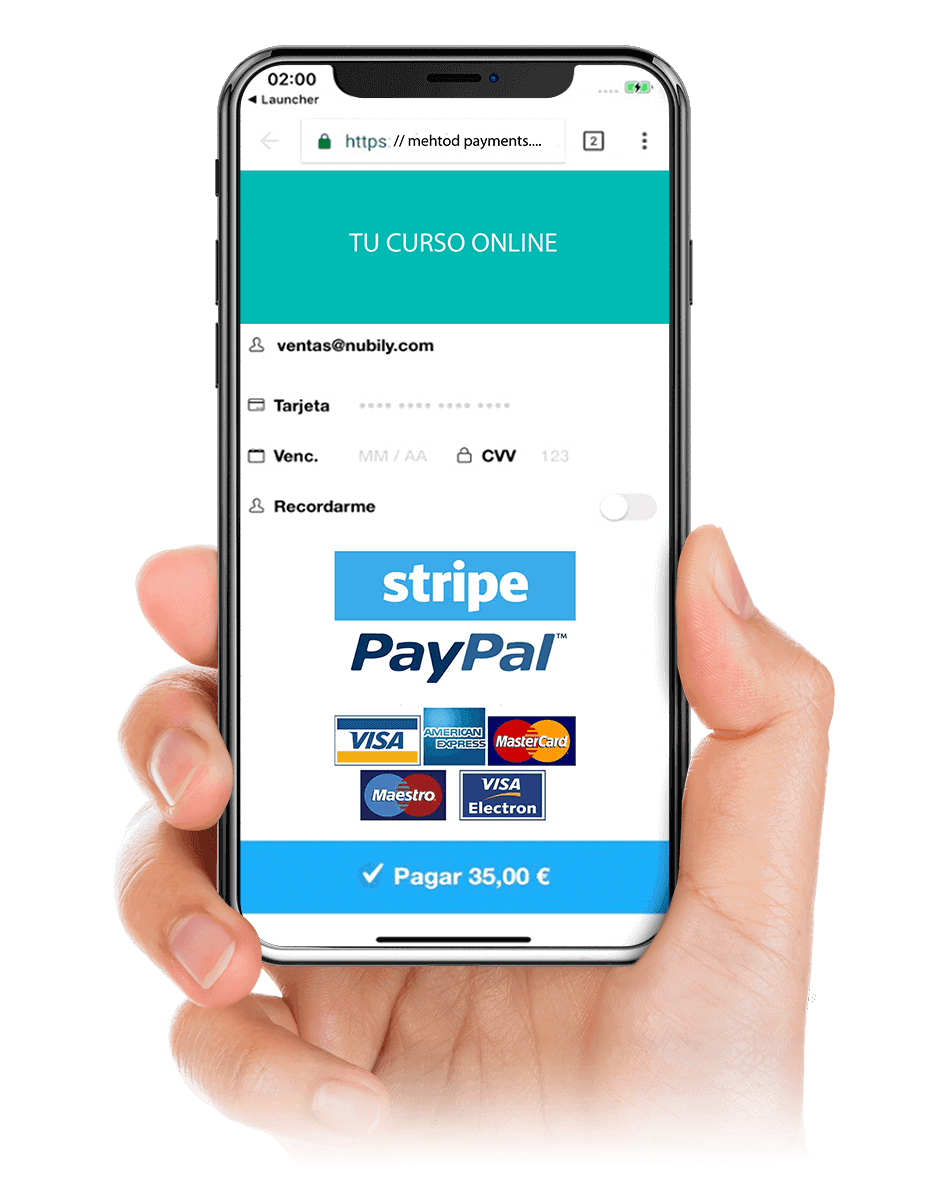 Custom payment plans
You decide if you want to charge in a single payment, through a monthly subscription or even offer the possibility of paying in installments to favor the conversion and increase your sales
Email Marketing
Promote your courses with our email marketing tools, which allow you to launch campaigns to your databases.
Hosting and Security
Choose a team of experts you can trust to take care of your online academy.

Constant improvements
We care about your suggestions to improve the platform constantly. When we detect a possible improvement, we implement it free of charge.

Ownership and control of data
Own and control all your content, including your students data. Set freely the selling rates of your courses.

Hosting without interruptions
Nubily hosts the content of your courses and makes a backup copy of all the data so you don't have to worry.

Online support
We make sure that the doors of your online academy are always open.

Cloud security
Our servers are dedicated, safe and optimized to guarantee connectivity and quick access from anywhere and at any time.

Secure payment gateways
We only work with payment gateways that comply with PCI level 1, so your data will be safe.